The importance of hygienizing your world: health and safety first of all with Healthy.Wood Milesi
For spending your time safely and pleasantly a clean environment is a fundamental condition. There are many spaces for daily social and domestic life and a continuous sanitation is impossible to do at every use occasion.
For this and more reasons was born the effective and indispensable answer of Milesi Vernici per Legno: HEALTHY.WOOD the new line of sanitizing finishes that provide surfaces with absolute and lasting protection against bacteria, without resorting to use of disinfectant products.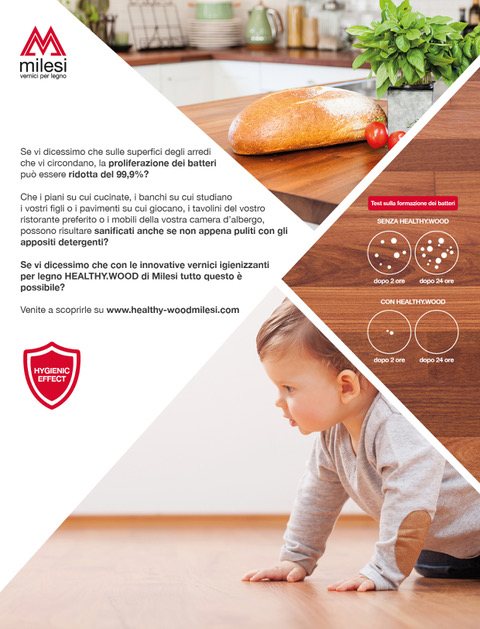 HEALTHY.WOOD was born from MILESI's research, a brand of the IVM Group one of the largest and most important companies in Europe, and worldwide, specialized in coatings for wood and materials used in the furniture industry that since 1947 combines technical skills with design skills: collaborating with renowned architects and designers, creating furnishings, accessories and objects which have marked the history of the furniture and furnishings industry
HEALTHY.WOOD, the new line of sanitizing finishes which provide long lasting and extensive protection against bacteria growth on surfaces, making the use of sanitizing cleaners almost redundant, comes from technological research of MILESI, brand of the IVM Group, one of the largest and most important wood coatings manufacturers in the world.
Laboratory tests show how the sanitizing HEALTHY.WOOD finishes inhibits bacterial growth beyond 99.9%, assuring maximum protection and hygiene while leaving aesthetic features unchanged.
HEALTHY.WOOD coatings are the ideal choice for all situations where hygienic conditions are a must: from home environments like the kitchen, bathroom, and children's bedroom, to all public spaces like pubs and restaurants, movie theaters, hotels, schools, stores, exhibition halls, doctor's and professional offices. HEALTHY.WOOD can be used for all those objects which are handled frequently and needs to be sanitized: glasses, toys, etc.
Silver strong sanitizing action is the core of the formulation, and combined with the innovative technology developed in the MILESI Research Laboratory led to generation a wide range of finishes and topcoats with extremely innovative sanitizing properties.
These coatings feature sanitizing particles directly integrated in their formulation; this allows for a perfectly homogenous distribution within the product. The entire coated surfaces remain consistently resistant to bacterial growth.
As the particles do not evaporate, their sanitizing action lasts forever, even on surfaces cleaned with particularly aggressive cleaning agents.
Surface treated with HEALTHY.WOOD coatings makes the use of sanitizing cleaners almost redundant
The starred chef Davide Oldani is one among who chose HEALTHY.WOOD. On June 4 he reopened his restaurant, D'O, in Cornaredo, just outside Milan.
To ensure maximum hygiene to his customers, he has chosen to use the particular HEALTHY.WOOD Milesi finishes with an absolutely natural look for the furnishings with rigorous and functional lines in solid oak wood from controlled reforestation areas.
Fonte: https://fuorisalonemagazine.it