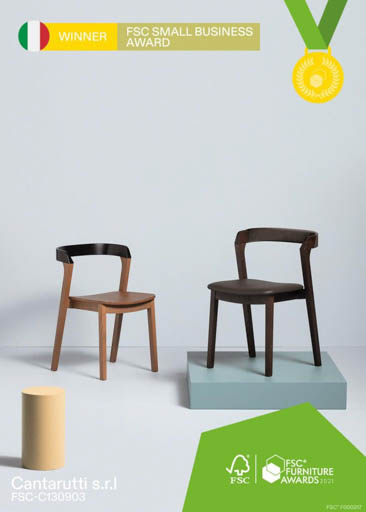 The collaboration between Milesi and Cantarutti, a company specialised in the manufacturing of high design chairs, has once again proved to be a winning one.
The ARCO collection, coated with Milesi Green coatings, won the FSC® Small Business Award 2021.
One of the reason why Cantarutti received this important award is the company's greatest respect for nature, environment and sustainability, themes that have always been  the focus of Milesi's research.
We are proud to have been part of this important success, thanks to the high quality performance of Milesi's products and to be able to collaborate with a company with whom we share a strong commitment on the green side.
Dicembre 2021
Forest Stewardship Council®
FSC is an independent, non-profit, international, non-governmental organisation established in 1993 to promote responsible management of forests and plantations.
The FSC® Furniture Awards is a competition organised to recognise the efforts of FSC-certified companies in the indoor and outdoor furniture categories.