---
GLI STUDENTI DELLA REED-CUSTER HIGH SCHOOL
DI CHICAGO IN VISITA AL LABORATORIO DI GLENDALE HEIGHTS

Anche oltreoceano prosegue l'impegno dell'azienda per la formazione
Milesi è protagonista anche a livello internazionale sul fronte della formazione professionale di alto livello per i futuri professionisti del mondo Legno Arredo.

Ne è un esempio la collaborazione consolidata tra Milesi Wood Coatings e la Reed-Custer High School di Chicago: l'Azienda di Vernici supporta infatti il programma "Careers for a sustainable and renewable future" della scuola, finalizzato a costruire un percorso formativo specializzato in Industrial Technologies.

Nell'ambito di questa partnership, un gruppo di studenti della scuola ha visitato il laboratorio di Glendale Heights e ha colto l'occasione per assistere ad alcune dimostrazioni pratiche sul mondo delle Vernici per Legno, affiancando così alla formazione in aula un momento di prova "sul campo".

"Ringrazio Milesi per il supporto al nostro programma – ha dichiarato Mark Smith, professore della Reed-Custer High School e responsabile del programma – e per la visita allo stabilimento, perché rappresenta una grande opportunità formativa per i nostri studenti".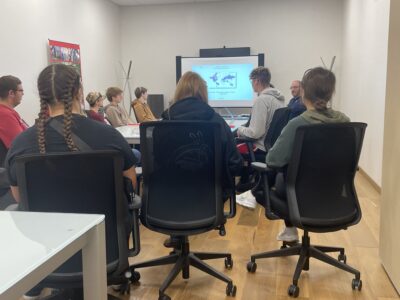 ---
English version:

MILESI WOOD COATINGS:
STUDENTS FROM REED-CUSTER HIGH SCHOOL
OF CHICAGO VISITING THE GLENDALE HEIGHTS LABORATORY

The company's commitment to training continues overseas as well
Milesi is a leading player at international level as well on the high-level professional training side for future professionals in the
Wood-Furnishing world.

One example is the strong partnership between Milesi Wood Coatings and Reed-Custer High School in Chicago: in fact, the Coatings Company supports the school's "Careers for a sustainable and renewable future" program, aimed at developing a specialized training pathway in Industrial Technologies.

As part of this partnership, a group of students from the school visited the Glendale Heights lab and took the opportunity to see some practical demonstrations on the world of Wood Coatings, thus combining classroom training with a moment of testing "on-the-job".

"I would like to thank Milesi for supporting our program," said Mark Smith, Reed-Custer High School professor and program leader, "and for the plant visit because it is a great educational opportunity for our students.
08 Novembre 2023